More Elephants!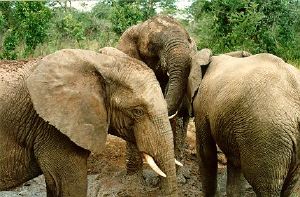 Wild Elephants photographed at play in South Wales.
Until very recently elephants were used in Welsh coal mines to carry the pit props. One of the reasons the coal mines closed was due to the expense of digging the large tunnels required for the passage of two fully laden elephants.
All the wild elephants are descendants of "Big Bertha" and "Larry" who escaped in the early sixties from the Deep Pit near Ebbw Vale. Since then the population has grown to an estimated 300 and they are becoming a bit of a nuisance in the Valley Towns.
---
Any comments? Then mail me, Christopher Watkins